BPP University Law School
You want a law degree.
We'll give you a career.
BPP University Law School
A reputation for excellence
Many students choose to study their LLB at BPP University because of our Law School's reputation for excellence, a reputation that is built on our proven ability to offer students the skills they need to succeed in law. We are one of the largest providers of law courses in the UK, providing programmes at undergraduate and postgraduate level as well as legal training for those training to becoming solicitors and barristers.
Our law degrees meet the requirements of the academic stage of legal training. They are highly respected qualifications and are a perfect place to start your career in law. We provide networking events with graduate recruiters and professionals, so you'll gain an insight into the legal world.
Qualifying law degrees with a clear focus on practice
BPP University is the UK's largest provider of the full-time LLB, so if a legal career is your ambition, then our law degrees are the perfect place to start.
A law degree with a real-life focus
Our LLB degrees cover the real-life application of law. They have been developed in consultation with leading practitioners and are focused on equipping you with the skills and knowledge you need to succeed as a lawyer, or in your chosen career path.
LLB (Hons)
Take the first step in your legal career by starting the UK's first practice-based law degree. Our LLB (Hons) is based on real-life practice and allows you to tailor your studies to your interests through a wide range of electives to choose from.
It is suitable for those who want to go on to qualify as a lawyer, or you can use the skills and knowledge to open the doors to a variety of rewarding careers.
Locations: Birmingham, Leeds, London or Manchester
Start dates: September, January and May
Study options: 3 years full-time, 2 years accelerated or part-time over 4-6 years
LLB (Hons) Online
If you would prefer to stay at home rather than move away, our LLB (Hons) can also be studied online – offering further flexibility. We will also give you a free Nokia Lumia 2520* to help you with your studies.
You will receive full pastoral and academic support from your own dedicated personal tutor and have the option to attend lectures and tutorials at our study centres throughout the UK.
Start dates: September, January and May
Study options: 3 years full-time, 2 years accelerated or part-time over 4-6 years
LLB (Hons) International Commercial Law
If you want to find out how law relates to the business and commercial world, then our LLB (Hons) International Commercial Law degree will provide you with a deeper understanding. It will demonstrate your commercial and business focus to employers – giving you a competitive advantage in the global market.
Locations: London
Start dates: September, January and May
Study options: 3 years full-time, 2 years accelerated or part-time over 4-6 years
Your Career Guaranteed with BPP Law School
Secure a place on our Career Guaranteed Legal Practice Course (LPC) if you obtain a minimum 2.2 on our LLB (Hons)
If you graduate with a minimum 2.2 degree and want to train to become a solicitor, you are guaranteed a place on our Legal Practice Course (LPC) or you can apply to study the Bar Professional Training Course (BPTC) if you aspire to become a barrister.
We guarantee you'll get a training contract, or you can study a qualification worth up to £16,500, free
We guarantee our LPC will make you more employable. And if you find you haven't secured a training contract within six months of completing it, we'll even let you study another qualification with us for free.†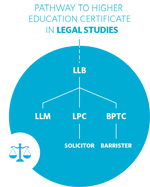 The choice of leading law firms
BPP University has excellent links to the legal profession and strong connections with a wide consortium of "Magic Circle" and "Silver Circle" law firms. Some of the most respected law firms in the country send all of their trainees exclusively to BPP because our programmes deliver what today's law firms need.
A Place with a difference that will suit you perfectly
Employability. Our number one priority.
We concentrate as much on getting your legal career started as we do on your degree. We'll make sure you have the skills and advice you need to transform your career prospects and land you the job you want. Our Careers Service is available to provide you with specialist advice before, during and after your degree.
Get experience while you study
Put your legal skills and knowledge into practice with BPP's award-winning Pro Bono Centre. The centre offers opportunities to work on real-life cases around the UK.
Few universities offer you as much flexibility as BPP.
Our LLB degrees use flexible learning options. You can study a traditional three-year degree, accelerate your learning and graduate in two years or study part-time. Our programmes are taught at four centres across the UK and online. You can choose to move away and study at one of our centres in London Waterloo, Birmingham, Leeds and Manchester or stay at home and study online.
How do you want to learn?
Each centre has comprehensive technology suites and online study tools which give you access to our extensive library of e-books and other resources. In addition to classroom sessions, our law degrees offer e-learning, live webcast lectures and archived lessons available 24/7 via your PC, phone or tablet.
In other words, with BPP University, you can learn wherever and whenever suits you best.
Making it affordable.
Our fees of £6,000 a year are substantially lower than the national average of £8,500. Plus bursaries, scholarships and student finance are available – and accelerated two-year degree programmes reduce costs even more.
Get your legal career started